Luminarias for Life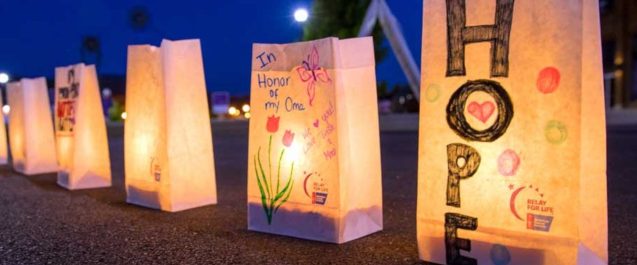 Thank you for your interest in our February Relay for Life fundraiser benefitting the American Cancer Society. We are happy to partner with the Methuen High School Relay for Life team in this effort to raise funds and community awareness. 
To participate, you can make a suggested $10 donation by cash or check (made out to Nevins Library) in person at the library, or you can make a secure online donation by credit card HERE

. 

Beginning January 19, blank white luminaria bags will be available at the library's main desk for you to take home to decorate. (We recommend that you use permanent markers or crayons, to protect your work from the elements as much as possible.)
Please turn in your decorated bags to the library by February 24 (either at the main desk or in the designated basket on the Curbside Pick-Up table), and library staff will take care of lighting and arranging them in front of the library; they will be on display February 25-27.

We look forward to creating, with your help and generosity, a lovely and moving display – thank you!