Giving at the Nevins Library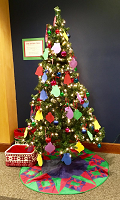 Again this year we have not one, but two Giving Trees gracing the Nevins Library, as well as our ongoing monthly food drive which supports the Friday Food Backpack program in the Methuen Public Schools. The Giving Trees will be here for the holiday season. You can come to the library and pick an ornament from one of the trees, and then purchase the item identified on the ornament. Drop the item (unwrapped) back at the Library, and we will make sure the items get to a child or elder in need of some holiday cheer! Details about our Giving Opportunities are below:
Children's Giving Tree for Emmaus House
The Children's Department of the Nevins Library has led the way for many years by hosting a Giving Tree for charity. This year we are helping provide gifts for the children served by Emmaus House in Haverhill.
Did you know that the average age of a homeless person in Massachusetts is 8 years old? Through its shelters and housing programs, Emmaus, Inc. Emmaus serves nearly 3,000 homeless men, women, and children annually, primarily from Merrimack Valley and Northeastern Massachusetts., and on any given night 300 adults and children call Emmaus home.
Please help ensure that these children have a happy holiday by donating gifts through the Nevins Library's Children's Giving Tree – stop by the Children's Room and choose a wish list item to purchase and put under the tree by December 12, and we'll wrap and deliver them to Emmaus!
Friday Food Backpack Program
We also still have going our year-round Friday Food Backpack program, you may donate food now, or throughout the school year by placing your donations in the basket near the front door in the Library's main lobby. Food items are then distributed on Fridays to children whose families need help on weekends and school vacations when the kids do not have access to school breakfast and lunch programs.
Secret Santa for Seniors Tree for the Nevins Nursing Home
Help bring some holiday joy to the residents of Nevins Nursing and Rehabilitation Center by participating in the Secret Santa/Giving Tree here at the Nevins Library. When you enter the library it's directly to the right of the Main Desk.
Anonymous tags with gift ideas will hang on the tree on the Library's main floor. Pick up a tag and purchase the suggested item (no more than $10.00 please.)
Please return your unwrapped gift by December 12th to the Main Desk.