We're Re-opening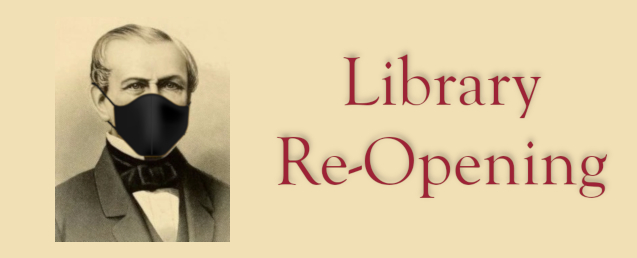 The Nevins Library building is open to the public.
While our Curbside Services have proven very popular, we know that there are many patrons who need some of the additional services, like computers, printers, etc., that can only be provided with access to the Library building.
The staff has been working hard to create a plan for opening that will maximize the safety of patrons and staff in the building, and make sure that we can provide excellent quality in those services that we can offer.
To that end we will have limited hours when we re-open, and more restrictions than we normally do as well.
We will be following enhanced cleaning protocols, enforcing social distancing, and good health practices. That includes but is not limited to requiring everyone over age two to wear masks.
We also urge anyone who can to use our Curbside Services, which will be continuing any time that we are open. If you know what you want to borrow, or have reserved items, this is still the best way to get them. As always you can call us if you need help finding something to read or watch.
Please note that we are not accepting book donations at this time.
Hours:
Monday – Curbside Only 10am – 5:45pm
Tuesday – 9am-6pm
Wednesday – 1pm-8pm
Thursday – 9am-6pm
Friday – Curbside Only 10am – 2:45pm
Saturday – 9am-3pm
Sundays CLOSED
List of Things to expect when you Visit the Library:
• Each patron will be allowed a maximum of one hour in the Library.
• No Food allowed. Closed Beverages will be allowed, but not near computers.
• Masks REQUIRED. Masks & Gloves will be available at entrance. Anyone who cannot wear a mask will be offered the reasonable accommodation of Curbside Service.
• Materials Browsing & Computer use are Walk-In
• Each table will have one chair.
• Study Room, Trustee Room and Garden Room will remain closed, used for furniture storage and materials quarantine.
• Meetings cannot be booked by any groups.
• Curbside Service is available whenever the Library is open.
• If a floor is full, patron(s) will be asked to queue on ramp with six ft. distancing.
• Children 7th grade and up will be allowed in the Library without an adult, though the one-hour restriction is enforced. Younger children may be accompanied by a teen in 9th grade or up.
• There will be no toys available in the Children's Room.
• The Garden and Grounds are open to all.