We're Open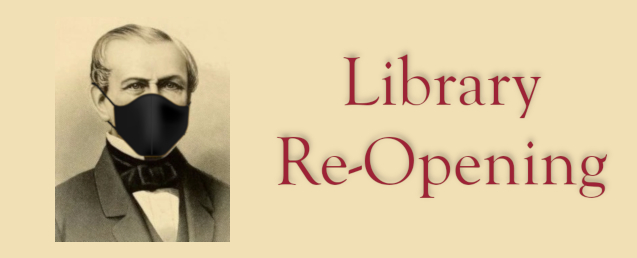 The Nevins Library is open for all walk-in services again, and we have returned to our pre-pandemic schedule. As we begin our return to life as we knew it before the pandemic, we are asking all of our patrons to practice the same courtesy that you showed throughout the last year-and-a-half. As of this time many of our patrons, especially children, have not been vaccinated, and we ask that you be considerate of others when you come to the Library, and wear a mask.
Everyone would like to toss off our masks, but we should remember that it has been a difficult time and lots of people still have health concerns. We hope that the Nevins Library can be a place where everyone feels safe and welcome!
And, don't worry , if you are one of our patrons who has enjoyed our curbside delivery service, we are planning to continue that during all of our open hours. Just call us to make arrangements to pick up your books, magazines, CDs and DVDs outside. Our online catalog makes it easy to reserve materials, and our staff is always happy to help you with suggestions on what to read, view or listen to next! We look forward to seeing you!
We will still be following enhanced cleaning protocols, enforcing social distancing, and good health practices. That includes recommending (but not requiring) all those who are vaccinated to still wear masks.
Hours:
Monday – Thursday – 9am-9pm
Friday – 9am–5pm
Saturday – 9am-5pm (Labor Day through Mid-June)
Sundays CLOSED
List of Things to expect when you Visit the Library:
• Curbside Service is available whenever the Library is open.
• Masks Required. Masks will be available at entrance and at services desks.
• Materials Browsing & Computer use are Walk-In
• Study Room, Trustee Room and Garden Room will remain closed for now.
• The Garden and Grounds are open to all.