Bruins PJ Drive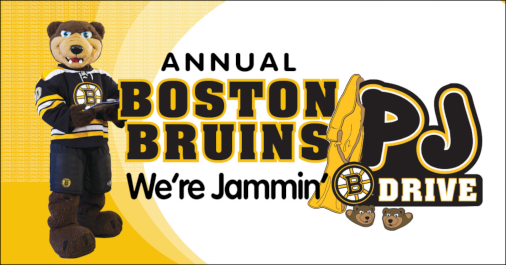 From February 1 through March 31, the Nevins Library, along with Cradles to Crayons®, the Boston Bruins, Massachusetts Board of Library Commissioners, and Wonderfund are coming together to collect new pajamas for local children living in low-income and homeless situations.
By supporting this PJ Drive, you will directly supply new pajamas to the children who need them most so they can stay warm while sleeping.
You can drop off New PJs in the Children's Room or on the Main Floor in the designated areas. 
Most Needed:
Girls: 5/6 (child S), 7/8 (child M), 14/16 (child XL/adult S), 18/20 (child XXL/adult M)
Boys: 7/8 (child M), 14/16 (child XL/adult S), 18/20 (child XXL/adult M)
All Youth Sizes, Adult Small, Adult Medium
Please don't bring any PJs that fall into these categories:
NO Adult Large, Adult XL, 31" Waist and Up
ONLY New England professional teams (New England Patriots, New England Revolution, Boston Red Sox, Boston Celtics, Boston Bruins)
NO rips
NO stains or excessive wear
NO pilling
NO family references
NO local businesses or special event items
NO holiday references
NO town names