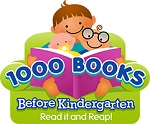 Welcome to the 1,000 Books Before Kindergarten initiative, a program that encourages families and caregivers to read 1,000 books with their infants, toddlers, and preschoolers before they enter kindergarten. Studies show that regularly reading aloud to children helps strengthen their language skills and build their vocabulary – important pre-reading skills that will assist children as they learn to read in kindergarten.
1,000 books might sound like a lot, but you can tackle the reading at your own pace. For example, reading one book a day for three years, or three books a day for one year, will add up to 1,095 books! The key is to have fun with your child and enjoy your reading time together.
There is no mandatory reading list for this program. We encourage you to read a wide variety of genres and formats — fiction, nonfiction, wordless books, graphic novels, eBooks, and audiobooks! Books read at preschool, storytime, and child care sites, as well as stories shared by friends and family members, can all be included in your 1,000 Books Before Kindergarten reading log.
How to Participate
1. You can either record your child's reading journey on a paper reading log (we have a different log-in sheet for every 100 books you read, available HERE in PDF form to print out, or, when we open again, available at the Children's Department desk). Or you can use our "Beanstack" online reading challenge tracking software HERE. You can use your own computer or the computers in the Children's Department to make online entries. Or if you're on the go, you can download the "Beanstack Tracker" smartphone app from the Apple App Store or Google Play and make log entries wherever you are. For help getting going with the Mobile Apps just go HERE.
2. When you have read 100 books, if you have used the paper forms, when we're open again, bring the paper log sheet to the Children's Department, pick up the log sheet for the next 100 books and have your child choose a reward sticker. If you've used Beanstack, have no fear, it will keep track of how many books you've read, just keep on keeping track, and when we open again you can visit the library for a reward sticker, of course. And don't forget that the paper log/PDF also includes space on the back for you to record your child's 5 favorite books from that batch of 100, because we always love to hear our readers' opinions!
3. You can share what you're reading by tagging The Nevins Memorial Library using the hashtag #MethuenReads2020 on Twitter, Instagram, or Facebook (at this time everyone needs more awesome books to read). And, when we open again, there'll be a really cool display wall (just ask at the Children's Department desk for details) and they can take a commemorative photo every time they finish 100 books!
4. When you have your 1000 books (and we're open again), visit the Children's Department desk to choose not just a reward sticker, but also a free book for your personal library!
5. Are you running out of books to read with your children, and looking for more? There's a whole Kids Collection in MVLC Overdrive (and Using Libby) that is just kids books, and, you can narrow that down to picture books as well.
Funding for Beanstack was made possible by a grant from the Massachusetts Board of Library Commissioners with federal funds from the Institute of Museum and Library Services (IMLS).